Tuesday, February 9th, 2010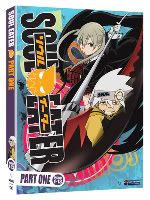 Set in the world of the "Death Weapon Meister Academy," Soul Eater tells the story of students who partner with weapons in order to battle demons and monsters. The weapons are normally human, but they transform into swords, pistols, and various other inanimate objects in order to do battle. Their goal is to collect the souls of 99 evil humans and the soul of a witch in order to create the ultimate weapon for their head master, the Grim Reaper himself, Death.
The series centers around three pairs of student "meisters" and their humanoid weapons. Our main heroine is the spunky Maka Albarn with her cool-as-a-cucumber scythe, Soul Eater. They are joined by their classmate, the self-centered and egotistical Black Star, and his chain scythe weapon, the sweet and motherly Tsubaki. And finally, the Grim Reaper's own son, the comically OCD Death the Kid, eventually joins the team with his twin pistols, Liz and Patty.
There has been a lot of hype about this anime series from the anime community since it debuted two years ago. I have seen a huge number of Soul Eater cosplay at anime conventions, so I feel like I was already familiar with a lot of the characters even without ever watching a single episode. And at last year's New York Anime Festival, both FUNimation and Yen Press teamed up to make a major push for the series to become the main event of the convention that weekend.
But like all very popular mainstream anime series, I was very skeptical as to just how amazing this series could possibly be. So I popped in these first 13 episodes preparing myself to be very disappointed.
So did I find Soul Eater to live up to all the hype?
Oh, hell yeah, I did!
In fact, I loved every minute of this kick ass anime series.