Monday, December 28th, 2009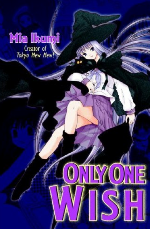 Rumor has it that when you send a text message to a certain email address, a dark angel will appear and grant you one wish. Only One Wish is a series of short stories about young girls who email the dark angel and then get their wish granted. Their wishes range from hooking up with a cute guy, to seeking revenge on someone they don't like, to even bringing the dead back to life. But like most stories of this kind, the girls learn very quickly that the wish does not turn out quite as planned.
Only One Wish comes from Mia Ikumi, the artist behind the popular Tokyo Mew Mew magical girl series. But like Mew Mew, this series suffers from some serious issues that prevents it from being enjoyable.