Monday, March 8th, 2010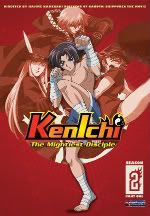 Kenichi is on the quest to become the world's mightiest warrior by training in a dojo with six – that's right, six – different masters teaching him six different fighting styles. And now that he's gain so much skill in the martial arts, he is being targeted by the leaders of rival gang Ragnarok, who pick fights with him on the streets. But with the help of his female classmate and training partner Miu, the two of them take on any opponent that dare to challenge his six different styles.
The first season of Kenichi: the Mightiest Disciple completely flew under my radar last year because it did not really look all that interesting with a plot like that. However, it ended up becoming a sleeper hit for FUNimation. In fact, the company has said that the reason why they are releasing this second season is because the fan support has been so huge for this series alone.
So I decided to finally give this series a shot with its second season to see what all this hype could be about. But needless to say, I did not find it all that appealing. If Soul Eater was a throwback of all the awesome anime series I remember watching while growing up, then Kenichi is certainly a throwback to all the mediocre ones.