March 30th, 2010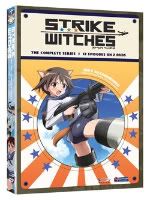 Okay, I guess I need to say a little more about this series than what I posted earlier…
In a fictionalized World War II era world, Earth is being attacked by a mysterious alien race known as the Neuroi. When traditional military forces come up short in combating the threat, the world turns to the girls of the 501th Joint Fighter Wing, the Strike Witches, as their last hope for humanity.
The Witches are an ensemble team of young women from around the world with magical abilities, which periodically manifests itself in the form of animal ears and tails. By attaching the special machinery known as Striker Units to their legs, the girls' magical powers are enhanced and they also gain the ability to fly. With the Striker Units in place, the girls take to the sky to do battle with the Neuroi in high altitudes.
The first season of the Strike Witches TV series centers around Japanese school girl Yoshika Miyafuji. Because of her magical healing ability, she is recruited by Mio Sakamoto to join the girls of the 501st. The pacifist Miyafuji is reluctant to become a fighter in the war, but when she discovers that her missing father is the inventor of the Striker Units, she goes along with Sakamoto in search of him.
It is no secret that I love Strike Witches. For the past few months, I have been heavily promoting the series on my twitter and blog as FUNimation has been embarking in their tongue-in-cheek "War on Pants" campaign. But my love for the show has been there since it first debuted in Japan nearly two years ago. I named it my #1 anime release of 2008 because it was the first commercially successful anime to be legally available online for a global audience.
However, there is a reason why this became such a big seller in Japan. In a market that has been overflowing with moé titles for years, Strike Witches manages to take the science of fan pandering and make a goddamn masterpiece out of it.