Monday, April 13th, 2009
Along with being an anime buff, I'm also a big movie buff. I probably see a new film at least once a week, so I am quite familiar with the way Hollywood and the industry works. Because I have such a huge admiration for the medium, it takes a lot to make me hate a film. In fact, I've only hated three films within the past year while finding the 50-some other films at least tolerable.
I hated Twilight because it was a dull film that was only meant to show off a pretty boy with bushy eyebrows. I hated Mama Mia! because the film ripped out my testicles, threw them at the screen, and then sang a song about it. I hated The Legend of Chun-Li movie not because it was a poor video game adaptation, but because it was a bad action flick.
But as difficult as it is to make me really hate a film, it's even harder to make me really love a film and make it significantly stand out for me. So when the end credits began to roll for Dragonball Evolution last weekend and I gave it a genuine applause out of admiration, that really meant something.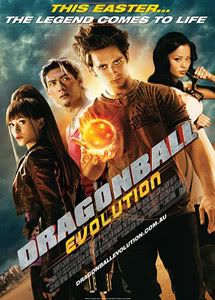 Yes, I actually enjoyed this live-action adaptation of the popular manga series. I was a fan of Dragonball even before I was a fan of anime. This simple story of strength, power, and domination has reached out to many Americans and has made the franchise the most popular anime ever released over here. So because I thought that the final moments of the film captured the same awesome feeling that the original comic and anime had, I felt very satisfied that Hollywood brought the property to the big screen.
But looking around, it would appear that I was the only one who enjoyed it. The Dragonball fans hated the movie before it was even made. As every photo and trailer came out, the blogoshpere would complain about how bad the movie looked and how much it was going to suck. And in the weeks leading up to the film's release, I was bombarded with blast after blast of hate as anime fans illegally downloaded the film and watched it on their computers.
With all this negative press leading up to the film's release, it was no surprise that the film bombed its opening weekend and only took in a dismal $4.6 million at the box office. It even undersold everybody's already low projections.
So where did it go wrong? How did the most popular anime property in America fail to reach out to its target audience?