Thursday, June 17th, 2010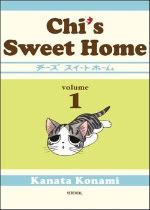 Konami Kanata's Chi's Sweet Home is a story about as simple as a story can be. When a gray-striped kitten is separated from his mother, he is discovered by a family with a young son, Yohei. The problem is that Yohei's family lives in an apartment complex that doesn't allow pets, so they secretly keep the kitty around as they search for a permanent home for her. But after a while, Yohei, mama, and papa eventually grow attached to the kitten, and they even name her Chi. It becomes obvious that they are never going to give away the kitty as she has quickly become a part of their happy household.
It is no secret that I love Chi, and it certainly ranks up there as one of my all time favorite series. I already own most of the comics in Japanese, and the anime earned the #2 position on my Top Anime of 2009 list last year. So I am expecting a lot out of this title when Vertical releases it later this month. In fact, I have never anticipated a comic's English release more than I have with Chi's Sweet Home.
And so I am thrilled to report that Vertical's release is very, very well done.