Monday, October 26th, 2009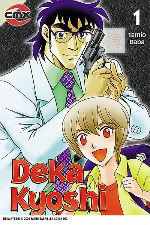 Detective Toyama is assigned to investigate the apparent suicide of an elementary school teacher. He goes undercover as a teacher himself and fills in for the victim's class of fifth grade students. He is determined to find out if the suicide was just that, or if there was any foul play was involved that could put the kids in danger too.
He quickly discovers Makoto, a strange boy who seems to be an outcast and bullied by his classmates. But it turns out that the reason why Makoto is so strange is because he has a special gift. He is able to look at people and see all their stresses and worries manifest into hideous demons and monsters. So with the help of the kind undercover detective, the two work together to fix the problems that plague these early adolescent students.
While its "monster-of-the-week" episodic formula seems very simple and shallow on the surface, Deka Kyoshi turns out to be a very delightful read.