Thursday, January 28th, 2010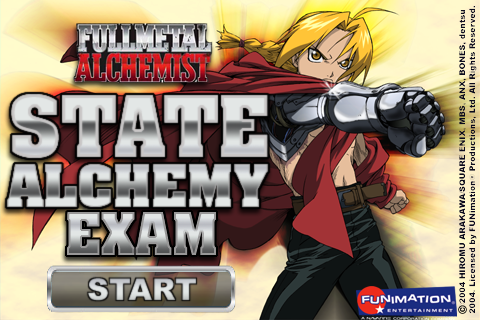 Well, since the entire world has been abuzz over the recent announcement of Apple's new iPad yesterday (which, by the way, I am totally buying as soon as it comes out). I decided to finally sit down with the latest official anime iPhone app and put it through its paces. After all, this app will also be available on the iPad in a few months.
The Fullmetal Alchemist State Alchemy Exam (iTunes link) is the second anime franchise coming to the iPhone from Japanese developer Appliya. A year ago, they released a series of novelty Evangelion apps, such as a clock and sticker app I was able reviewed on this blog last February. Now Appliya has partnered with FUNimation Entertainment to bring a number of the company's top properties to the interactive small screen, and the first one up to bat is the very popular FMA franchise.
The State Alchemy Exam is essentially a trivia game that combines questions about the first FMA anime series ("What is the last name of Edward and Alphonse?") with questions about Physics ("What is the process of changing a liquid into a gas?") and Chemistry ("The bubbles in soda are caused by what gas?"). You begin at the easy level and when you can answer all 10 out of 10 questions correctly, you can move on to a more difficult level.
(more…)