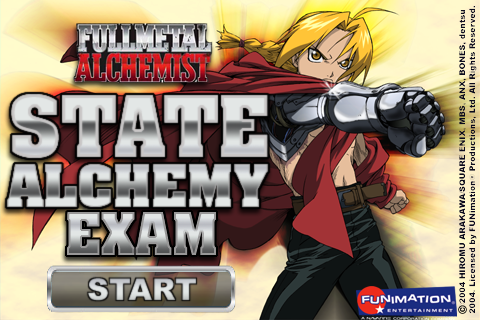 Well, since the entire world has been abuzz over the recent announcement of Apple's new iPad yesterday (which, by the way, I am totally buying as soon as it comes out). I decided to finally sit down with the latest official anime iPhone app and put it through its paces. After all, this app will also be available on the iPad in a few months.
The Fullmetal Alchemist State Alchemy Exam (iTunes link) is the second anime franchise coming to the iPhone from Japanese developer Appliya. A year ago, they released a series of novelty Evangelion apps, such as a clock and sticker app I was able reviewed on this blog last February. Now Appliya has partnered with FUNimation Entertainment to bring a number of the company's top properties to the interactive small screen, and the first one up to bat is the very popular FMA franchise.
The State Alchemy Exam is essentially a trivia game that combines questions about the first FMA anime series ("What is the last name of Edward and Alphonse?") with questions about Physics ("What is the process of changing a liquid into a gas?") and Chemistry ("The bubbles in soda are caused by what gas?"). You begin at the easy level and when you can answer all 10 out of 10 questions correctly, you can move on to a more difficult level.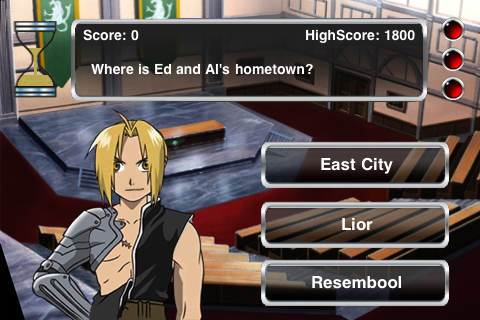 I have to admit that the geek in me actually had fun combining my knowledge of the fictional FMA universe with my knowledge of real world science. It adds a much needed hook to the generic trivia game formula, and it sort of made my year of 10th grade Chemistry not feel completely worthless in the long run.
The problem with the trivia questions is that you cannot move on to the next level unless you score 100% on the exam. One slip up and you are forced to go back and try again. This meant that I had to retry the same level again and again, and the questions began repeating themselves far too often, which quickly took away the fun and spontaneity of the game.
I did like Appliya's integration of the OpenFeint score-keeping system. By signing up with the third-party service, you are able to participate in the world leaderboard and compare your stats with that of your friends. The set up was plainness and I was able to login using my Facebook account. Could not have been any easier to utilize this fantastic service.
But like I did with the Eva apps last year, I seriously have to question Appliya's choice of pricing the app at $1.99, breaking that 99 cent threshold held by a majority of programs in the app store. The State Alchemy Exam is a novelty app and nothing more. You will play it for a round or two and have fun doing it, and then you will probably never touch it again after beating the hard level.
Is that worth 99 cents? Absolutely.
Is it worth twice that price? Well, that's pushing it.
If you are a hardcore FMA fan, than you have probably already downloaded this app, and by all means, you should. This game is perfect for that kind of fan. But if you are just a casual fan of the series, then use a little digression before forking over the two dollars. The State Alchemy Exam is fun, but it is not particularly that amazing.
Review copy provided by Appliya.