The female otaku fascination with yaoi and pretty boys has been a concept I've had a hard time figuring out. There are several illogical factors that do not seem to have some explanation. First of all, these comics show relationship deprived of any female interaction, so I can't see how female readers can relate. Also, the characters themselves are said to be male, but their androgynous figures make that very hard to believe. So why do the girls still go nuts over them?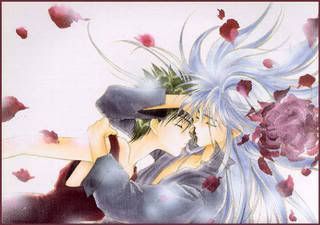 I clearly cannot answer that question, so I turn to some academic essays written by some very smart people. Last time, I talked about an essay written by professor Deborah Shamoon . She suggests that attraction for androgyny comes from the pre-WWII Japanese female culture which used to promote girls forming close relationships with other girls. This created an ideal of couples having similar physical features, which eventual turned into male and female characters merging into one androgynous figure.
While this makes sense for the WWII generation and possibly even the proceeding "baby boom"generation, I find it hard to believe that modern girls would still feel this way. And even then, American girls have never had this kind of history, yet female American otaku are just as crazy about bishounen as their Japanese counterparts.
So for a more modern look at pretty boys, I turn to this essay from professors Brent Wilson and Masami Toku. With their research and suggestions, I am able to form my own logical explanations of the attraction to yaoi.
In answering the question of the female attraction to homosexual relationship, they have concluded that yoai and boys' love comics are not actually about realistic gay relationships. There are actual "gay comics" out there made by gay men and intended for gay males. Even though they do not get into detail, and even though I have never seen such a comic before, I would imagine "real" gay comics to be a lot more about the dramatics of living an alternative lifestyle rather than the dramatics of forming a relationship. Also, I would imagine there to be much more sexual and eroticism in these comics, since both heterosexual and homosexual men love sex. 😉
Yaoi and boys' love comics probably would not appeal homosexual men just like real homosexual comics don't appeal to female readers. So if it's not about homosexuality, than what is yaoi about? The answer is in the bishounen characters. When asked yaoi fans themselves on why they like boys' love story, the answer the professors heard the most was "because two boys are better than one." This implies that the female reader is actually attracted to the characters themselves and not necessarily the act of gay love between them.
Yaoi is a fantasy that re-imagines normal heterosexual relationships between a man and woman. Pretty boys are not actually supposed to represent real life males. Instead, they serve as an empty vessel for the female reader to fill with her own personal hopes and desires. Having two empty vessels allows more flexibility in the reader's suspension of reality, and breaks all conventions of social hierarchy.
This hierarchy, of course, is the clear dominance of male roles over female roles in both Japan and America. By having two characters of the same gender, you eliminate one character being in a higher social class purely on gender. While some yaoi stories establish a more dominate figure ("tops" and "bottoms") in the relationship, it is a role that the character chose for himself and was not forced into by society. Both partners are equal on this playing field.
Such same-gendered relationships would not play so well to a male audience. We enjoy our dominance in society and do not wish to give that up. In fact, this is somewhat of a fear to male readers. We attempt strengthen this dominance in our comics by portraying even the weakest male still dominating over a harem of women.
But to women, having a male and female relationship already establishes one higher role over the other. And unfortunately, girls always come out on the losing side. So they turn to yaoi to escape the sexism of real life. This kind of control also gives the female a chance for revenge against these unfair societies. They take a real human male and strip him of all his masculinity. Replace bulging muscles with slender figures. Replace facial hair with smooth silky skin. Replace the short haircuts with long flowing locks. The result is the androgynous bishounen pretty boy, a man made in the form of woman.
By making man in the form of woman, the female readers can also easily superimpose themselves into these "male" roles. I'm sure that this gender bending experience becomes the thrill of reading yaoi and can explain it's popularity and devoted fans. By giving in to the fantasy, woman are now able to take in all the perks of being male, like moving up in social rank, while shedding off all the nuisances of being female, such as menstruation.
One particular benefit I find interesting when going from female to male is the ability to go into a relationship "with no strings attached". Romantic stories aimed at men are often very sexual with little thought about the consequences of sex, namely pregnancy and childbirth. For women, this is something that they just cannot ignore. There is always that fear of life commitments and future hardships that may result from And so by having two "males" mating, there is absolutely no chance of pregnancy. This puts the female at ease as she imagines herself as one of the characters with no fear of the consequences of casual romance.
So the female attraction to yaoi and boys' love comics is not about homosexuality at all. It's about the female audience breaking free of their unfair gender roles in Japan and America. By creating relationships between two androgynous figures, they are able to create an equal playing field for romance. And since these bishounen are men created in the form of woman, they allow the reader to indulge herself into gender bending by superimposing herself into the story.
Next time, I will take a look at a recent trend of gender bending in shounen manga and how it presents a different form of excitement to it's male readers.
UPDATE: Reader Pete sends in a link to this interesting blog post on how girls misinterpret the male anatomy in yaoi.