I love New York. With it only being a 100-minute bus ride from my apartment, I often find myself going there at least once every month to escape the boredom of Central Jersey. But you would think that being such an iconic city would just be a great place for an otaku to completely geek out on his fandom, right? Surprisingly, this is not the case.
My first anime convention was actually the Big Apple Anime Film Festival in 2003. It was the first time I got to experience cosplaying, panels, and a dealers room like that. That was also the first time I saw what would become my favorite anime of all time, Millennium Actress. Since it was the US premiere of the movie, the film's brilliant director Satoshi Kon was in attendance. After seeing the film, I was able to give the man a standing ovation. What an amazing experience for my first-ever convention!
But alas, that was the last year of the BAAFF. The con was canceled and our city was left with little to offer for hometown otaku for many years. That was before Peter Tatara and Reed Exhibitions stepped up to the plate and brought anime back to the city with the New York Anime Festival last year. As Ani-Gamer's Vampt Vo wonderfully wrote in this article, Peter and the NYAF has done so much in this past year for anime in New York, and man, do I appreciate it!
So once again at the NYAF's second annual convention, I just felt an absolute love for a great convention put together by great people. I did my normal "live" Twitter coverage over the weekend and I am in the process of putting together some great stories to be posted in the weeks ahead. But for this week, I want to highlight some of ways I really felt the love for the NYAF this year.
Love Letters to Yen Press
One of the reasons why I decided to do my Yen Plus essay last week was that I wanted to tell my favorite new manga publisher how much I loved them and their gutsy approach to the market. The plan was simple, I'd meet the Yen Press reps, hand them a business card, and tell them to check out the site to see the Yen Plus article right there at the top of the page.
But apparently I didn't have to.
"Oh yeah, that's him!" a Yen Press rep said after I handed them a business card. They immediately recognized my blue haired catgirl mascot on it. As it turns out, they had already seen the website and the essay I had posted only days before. They were all very happy about it and thankful for the kind words.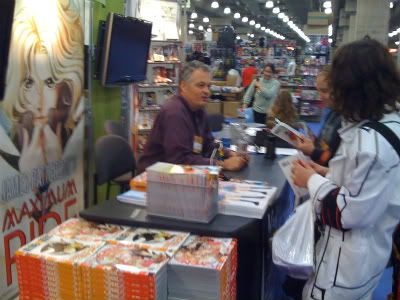 We joked around a little about the article, and they made reference to how I called them a "none of the above" company on an older post of mine. Dick McVengeance from Japanator was also there, and they also recognized him as the reviewer who bit down on their magazine in his review. This was a really great feeling as a blogger to know that the people you write about are actually reading what you wrote.
"Trust me," I promised them, "I'm going to continue to send you love letters every chance that I get on my site."  And it just so happens that their Sunday panel gave me an opportunity to write another such love letter.
The first volume of their Haruhi Suzumiya manga was on display at their booth on Friday, but I was told that it was only for show and not for sale. They did hint to me that there was going to be some kind of Haruhi give away at their panel on Sunday. I assumed this only meant the one display unit they had right there at booth, so I figured my chances of getting one was slim to none.
Well, it wasn't just the one display unit. They brought in a huge box full of Haruhi vol. 1, and they made sure to give one out to everyone in a very creative way. I was absolutely thrilled over this book, and losing any form of professionalism on that Sunday, I shouted out an answer to one of their trivia questions and got myself a free copy. Normally I don't accept freebies from the industry… but I guess I can make this exception for Haruhi. (>_<)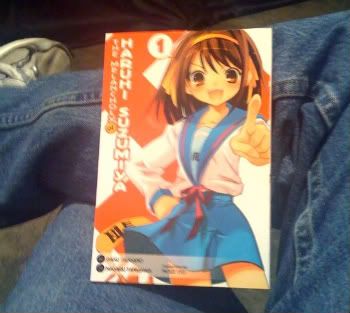 Once again Yen Press, I love you very dearly, and I hope you will continue to be the most awesome publisher out there right now.
Your #1 fan,
Scott <3
A Teenybopper Crush
But I guess Yen Press couldn't be my only love in the convention. I had gone to the masquerade early to make sure I got a good seat for to take some photos of the costumes. I ended up in the front row right next to the right corner of the stage.
I remember overhearing at some point that the Japanese voice actress Rie Tanaka was going to be preforming beforehand, but I guess I didn't really care that much to notice. I don't really find myself going nuts over voice actors like most otaku men do. Their over-manufactured personalities tend to be a really fake to me, and that's just big turn-off. The only voice actress I'd really consider myself a fanboy for is Mamiko Noto, and that is probably only because of the type characters she plays in anime.
But Rie Tanaka was not Mamiko Noto, so I had even forgotten that she going to be opening for the masquerade. So I was a little surprised when the event's MC introduced her at the start of the show.
And then she came out in pink cat ears…
and a pink cat tail…
and as she jumped around on stage, she went right up to my corner, looked down at me, and did a cute pose for the camera..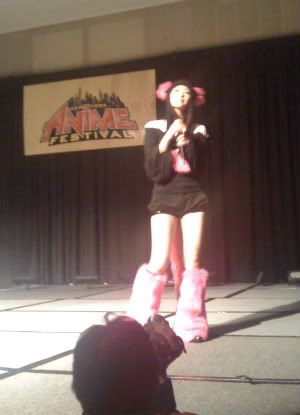 and just like that, I had lost my heart to a Japanese pop idol.
I recall watching youtube clips of Japanese otaku men acting like idiots at these idol concerts. They would hold up glow sticks, wave their arms around, and occasionally jump in unison to a crescendo of "whoa!" and "hey!" This results in some kind of neanderthal tribal chant among the Japanese geeks, and if you don't know what I'm talking about, see this video for reference.
I always felt embarrassed for my fellow geeks when watching them in these videos. What would drive a man to act like a monkey for a manufactured singing puppet like that?
But as I was watching Tanaka prance around the stage in that costume, singing out one of my favorite theme songs, "Let Me Be With You", and occasionally cooing out the word "Chii~!" I… I… I don't know what came over me. Suddenly, I just understood the primordial urge of the geek tribal dance. If I had a glow stick, I probably would have just waved it around screaming "hey!" with every other guy in that audience.
This "singing idol making male otaku crazy" pattern must be a global phenomenon, and perhaps I should look into it a little more in the future.
Mixed Feelings on ANN
I left the convention with completely mixed feelings about the most popular anime website in America, the Anime News Network. They co-sponsored the convention, and their branding was all over the place. The main room was called the "Anime News Network Theater" and their huge ass banner took up an entire wall of the press room. You just couldn't ignore their presence there.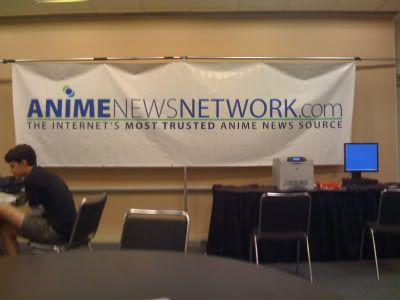 On one hand, I was really happy with my interaction with Robin Sevakis, the artist behind the ANN webcomic Anime News Nina. I love her comic and wanted to do a story on her for the site.  Robin was so nice towards me and very accommodating when I requested an interview. I couldn't have asked for anything better and I'm looking forward to writing a nice post about her next week.
Another very positive thing about the ANN was that they had announced a legal streaming video service during their panel on Saturday night. The service was going to start with a few Media Blasters titles, like Girls' High and Kite Liberator. You can get a low quality video for free or for a small subscription fee, you'd have access for higher quality videos. In the future, they are hoping to expand this service to include brand new shows from Japan, a la Gonzo's recent venture.
I have to say, I really love the idea of this. Anything trying to be a 100% legit alternative to Crunchyroll is okay in my mind, and if ANN is able to pull that off, it would be wonderful. ANN was looking really good to me at that point, and then they went to Q&A from the audience…
Someone had brought up ANN's 24/7 "Spring Preview" coverage where the website had done reviews of fansubs for a couple of weeks. As I wrote in this essay, I was very disappointed that the ANN had gone this route and thought it was very hypocritical of them considering their anti-Crunchyroll bias.
But when the summer season came around, ANN didn't post any reviews of unlicensed anime.  This lead me to believe that ANN realized it was a mistake and they would never do it again, and I was very pleased with them about that.
Well… it turns out that wasn't the case. In fact, ANN thought that the Spring Preview was one of the most successful things they have ever done. In their own words, they wanted to beat "those dastardly anime bloggers" to the punch with this content, and they believe that they did just that. Traffic was huge for their fansub reviews, and as we all know, more traffic equals more ad money for the site. If they had enough resources to do it for the summer, they would have. And for now they are planning on doing it again for this upcoming fall season.
I can't begin to explain how disappointed I am with this decision. Whenever I try to talk to anyone on that team on this issue, they always sidestep their reasons and tell me that it's still a "gray" area for them. In other words, screw their past opinions and criticisms of Crunchyroll, if there is a potential to profit off of it, then yay to fansubs!
ANN, please get your act together a little. If you're going to look down on us, the dastardly anime bloggers, then don't copy our style for the sake of traffic and money making. Set some clear editorial policies for your team to define the gray as either black or white, and stick to that policy.
I really want to respect the ANN. They have some great talent on that team, and I admire their video service idea. But I think that this mix feeling over the major "professional anime media" at the convention brings me to my final highlight of the weekend…
Love of the Press Badge
A lot of bloggers make fun of me talking about the power of the press badge, but once again, I cannot stress how amazing having one actually is. This is my third con with the badge, and I feel much closer to the my hobby and passion because of it. It makes everything so much easier to report on when you can bypass lines and get front row seating to everything. It's also great to be able to sit down for a talk with people who I admire, like Robin, or have access to amazing events, like the Bang Zoom workshop I will write about soon.
The thing I noticed about the press badge this time around was the amount of bloggers actually going for one, and a lot of them were doing it for the first time. Not only that, but they were actually using the badge to do great work. I had mention Vampt Vo earlier. We both started this press thing at AnimeNEXT only months ago, but this time around, he was really acting like a pro. He was there live blogging every industry panel and interviewing voice actors. At this rate, I'm sure he's going to be getting a paid freelance gig sometime soon. He's got the passion for it.
I also saw the tag team writers behind the Reverse Thieves blog running around to cover the convention with the badge. Sometimes they would split up to cover multiple panels if there were scheduling conflicts, and they even landed an interview with Petite EVA artist Ryu Moto. Mike from the Anime Diet blog was able to put together a fantastic looking video report from the convention thanks to the badge, and his work looked easily on par with any "professional" video report you'd find online.
You don't have to be ANN to get a press badge, and it appears that more and more bloggers are being granted one each con. While I can't exactly pinpoint the exact criteria what will land you such a badge, I think that just as long as you take your reporting seriously and try to be professional with it, they will accept your application. We might not actually be professional journalists… but we can at least cosplay as one for a weekend. 😉
Our time is now, my fellow amateurs. If you have a passion for something in this otaku subculture, then go for it, investigate it, and report back something wonderful from it. If you have a passion for gothic lolita, then you could have sat down with the Baby, the Stars Shine Bright designers last weekend. If you love American voice actors, you could have met and spoke to Steve Blum, Kyle Herbet, and Tony Oliver like Vampt Vo did. Or Instead of waiting in line hoping to get a glimpse of my new love Rie Tanaka, you could actually arrange to sit down with her for an interview like Gia did.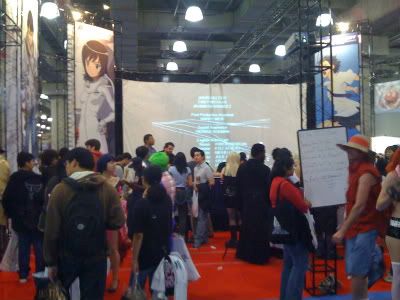 So I hope you all understand just how awesome Peter and the NYAF are for bringing anime back to New York City. I will always remember the past weekend as the time that I declared my love for a manga publisher, lost my heart to an idol, got a better insight into a professional news site, and saw my peers join me in a new wave of amateur journalism.
It was a fantastic show all around, and I can't wait to attend all the other events that this team will put on in NYC in the next year. (^_^)