Note: You may not want read the latter part of this post you are easily offended by sexuality or profanity.
I have always been a fan of the small MangaNEXT convention. Universal Animation, the group behind the AnimeNEXT convention held every June in New Jersey, had created it as a manga-centric spin off to be held in fall – generally after the traditional summer convention season. As the name implies, its defining premise is that the center of discussion is to be only about that black-and-white medium that often get lumped with anime.
After Anime Boston 2006, I had dropped out of the convention scene to focus more on finishing college and landing a job. I didn't go back to Boston or Otakon or even AnimeNEXT for some years. But something seemed right about MangaNEXT. The timing, location, and size of the event seemed very manageable even with my busy schedule. So during my hiatus from the convention scene, I still made my way to the first MangaNEXT in 2006, and returned again in 2007.
Because of that, I can honestly say that MangaNEXT is the only convention I have attended since the very beginning, so I have seen its evolution through out the past three years. But I dove back head first into the convention scene this year, and I have attended four much larger cons so far this season. So now that I've experience such a wide variety of major anime cons so close together like this, how does this small manga convention stack up against them?
Still pretty damn good.
Artistic Innovation
MangaNEXT tries to find some originality to the general cookie-cutter formula of American anime conventions. The guests and companies involved in the event are there to talk solely about Japanese manga and less about animation. For example, even though the anime company Media Blasters was in attendance, the only panels hosted by the company was by the head of their manga division Frank Pannone, and the only thing he talked about was their manga line.
But the originality doesn't end in just discussion topic, little details here-and-there really give this con some personality. Ever since the first year, the convention program has always been so remarkable that I always kept them around long after the convention. For one thing, it's printed from right-to-left like most manga is released in America. And the cover this year's program was graced with one of the most beautiful sketches I have ever seen, depicting the con's mascot with fall foliage.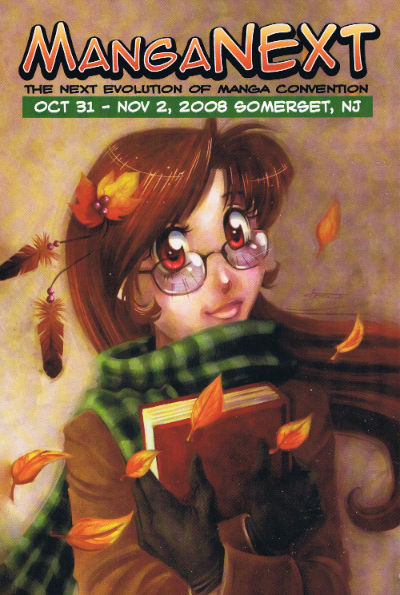 Another new idea the convention introduced this year was an "Akihabara Runway," in which cosplayers strut their stuff on a runway following the traditional masquerade event Saturday night. The actual fashion show could have used some improvement. The participants very quickly made their way down and off the stage without taking much time for photographers to take a shot. Perhaps some more instructions were needed for the cosplayers to stop and turn at various spots along the runway.
However, the layout of the runway stage turned out to a real winner during the masquerade. The stage extended out into the audience, and some of the groups utilize this to preform their skit surrounded by the audience. This made the ending skit all the more better when a Lelouch cosplayer sang an amazing rendition of Coldplay's "Viva la Vida" while slowly walking down the stage. Everyone was so moved to see this performance in front of them, and they all gave the cosplayer a standing ovation when he finished. This staging made for a very unique theater experience that I have never seen at prior conventions, and I really enjoyed it.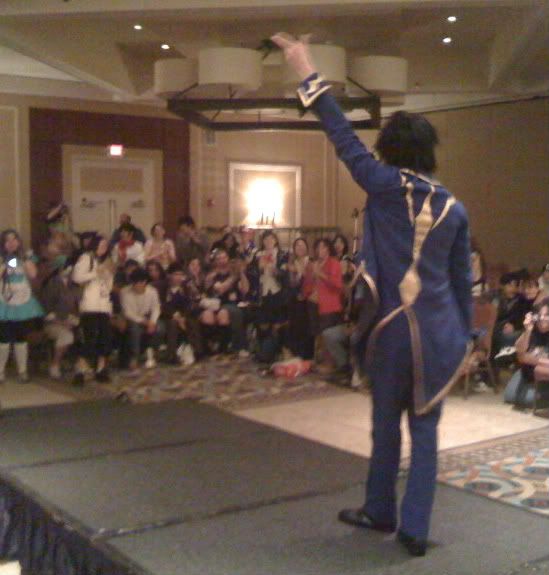 Location, Location, Location
Without a doubt, the biggest change this year was a reallocation of the convention. In the years past, both AnimeNEXT and MangaNEXT took place in Secaucus NJ, which is right over the river from New York City. For this year, both conventions moved to Somerset NJ, which is located in the middle of the state and somewhat far away from either New York or Philadelphia. This convention was the first weekend to test out the new location, and unfortunately, it did not appear to go over so well with the attendees.
I personally love the new location because I grew up in Central Jersey. The convention was now located right next to my alma mater Rutgers University, so I was very familiar with the area.  Even at my current residence in Princeton, I didn't have to drive more than 20 minutes to get there. It was awesome having a con so close to home like that.
However, this meant that the convention was not located near any metropolitan area, and that made it very difficult for many to actually get to the convention. The only form of public transportation available was one single train line that stops at the university. But without a usable shuttle system, those arriving by train would need to take a taxi because the convention was considerable distance away from the station. So the most sensible mode of transportation was driving to the convention, but it was still located in such an industrious area that it was difficult finding the right building. I ended up driving into two incorrect parking lots before I finally found the Doubletree Hotel.
The location was a complaint I heard a lot over the weekend from both attendees and guests. Compared to how easy it was to get to the convention back when it was located next to New York, you really saw the disadvantages of a Central Jersey anime convention. Fortunately, MangaNEXT is a very small convention, so it did serve as a good test run for how things would work out. But from this test run, I can already tell that this is going to make things a lot more difficult for the larger AnimeNEXT convention this June when thousands of otaku attempt to make their way to Somerset.
The convention doesn't necessarily need to change the location, and for my sake, I hope it continues to stay in Central Jersey. However, the con organizers need to put a lot more effort into assisting the attendees in finding their way to the venue. I highly recommend at least one shuttle going to and from the nearby train station for those attendees in need of public transportation. Also, put up signs on the nearby roads to assist those in driving the proper building, and be prepared for the amount of parking that will be needed.
The Talented Mari Morimoto
"Do you need to schedule an interview with any of our guests?" asks the head of publicity when I check in at the start of the weekend. After giving it some thought, I told her that it wasn't going to necessary. It's not that I wasn't interested in any of the guests, it's just that I was already going to be face-to-face with them all weekend long!
The benefit to having such a small convention like this is the intimacy between the guests and the attendees. All the guest panels that took place on Saturday were in a room so small that microphones were not even needed. Another new concept introduced this year were these "Book Club" sessions in which fans actually sat at the same table with the manga artist and talked about the book with her. This intimate setting lead to a rather embarrassing moment between yuri artist Rica Takashima and myself, but more about that in a future post. 😉
The guest I looked forward to the most was Mari Morimoto. She is the English translator for many of VIZ's popular manga titles like Dragonball, Naruto, and Inu Yasha. She works as a full time veterinarian during the day and does freelance translations at night. Recently she's expanded her work outside of VIZ to translate the Dragon Eye manga for Del Rey, and is currently in talks to do work with other publishers.
Because she lives in New York, she has attended many local anime cons and events, either to talk at panels or to serve as translator to the Japanese guests. A month ago, she was the translator for the Gothic Lolita fashion designers Baby, the Stars Shine Bright at the New York Anime Fest. In return for her services, the designers gave Morimoto a rather pretty dress, which she had worn for the first time that Friday at MangaNEXT.
I have attended many of Morimoto's panels in the past year when she spoke at MangaNEXT, AnimeNEXT, and even at a very good Q&A session she held with Del Rey at the Kinokunya NYC bookstore last fall. Morimoto is very knowledgeable about the insides of the industry, and unlike most industry reps at conventions, she's always very blunt and honest and never jumps around any issue. So no matter how many times I have heard her talk about manga translating, I'm always fascinated with her experiences and look forward to hearing again at the next con.
Morimoto was practically the star MangaNEXT this year as she hosted six separate hour-long panels through out the weekend and even served as translator to Rica Takashima. Among her topics were the complete history of manga in the US, Japanese manga production vs. US manga production, points and pitfalls in translations, and folklore in manga. I learned about how Barefoot Gin became the first manga ever published in English in response to the Cold War, how hectic a Japanese manga artist has to work in order to put out a new story each week, and how manga translation makes for a good secondary income, but if you want to make a living out of it, you should go into translating legal documents instead.
Getting Down and Dirty
But I guess the most memorable aspect of MangaNEXT this year was how adult-themed the conventions felt for me, particularly on the subject of homosexuality and lesbianism in comics. I felt that this was because of the type of guests speaking that weekend. Rica Takashima was a yuri artist, Pannone heavily promoted Media Blasters's yaoi and yuri titles, and even Morimoto hosted a panel on "gay manga" on the first night. When all three guests got together to host a "My Life in Manga" panel on Saturday, the conversation got so risque that there were some concern over having minors in the audiance.
I went from having relatively no experience in the homosexual manga genre to discussing and reading about it for an entire weekend, and I found it was all very fascinating. So expect a series of yuri and yaoi-releated posts on this site over the next month based on all the things I've learned about at this convention.
But the most adult moment came at the last event I attended on Saturday evening, the burlesque show. With a strict 18+ age limit on the participates and audience, the burlesque was essentially an adult masquerade. For those unfamiliar with anime conventions, the masquerade shows typically involve cosplayers on stage acting out in skits, dances, instrument playing, or other hidden talents. Almost every convention has one, but to the best of my knowledge, this is only a second time that an adult-only masquerade has taking place  — the first being at AnimeNEXT last June.
So what exactly happens at an adult masquerade?
Well…
The first jaw dropping moment of the event came with a girl cosplaying as Nurse Joy from the Pokémon series. She came out a frilly pink dress and playfully danced to an upbeat lounge-act cover of the Disturbed song "Down with the Sickness." (Get it? Sickness? Nurse?) As the cheerful song went on, the Nurse teased the audience with a cute prance around stage and a slow removal of her frilly dress.
"Ooh wah ah ah ah!" suddenly screeches the vocalist of Disturbed as the original song replaces the cover through the speaker. To the riffs of the hard metal song, Nurse Joy literally rips off whatever was left of her frilly dress and tosses it offstage. Her costume now only consists of a pair of thong panties and pasties covering the nipples of her otherwise exposed breasts. She takes her dance right onto the stage floor, where she lifts up her legs and poses in all the sexually suggestive poses you'd come to expect from a strip show.
"Holy shit!" yells the man behind me after the act was over, and I would have to agree. While she might not have been fully nude, having a sexy girl strip to her bare minimum and spread herself out on the floor was still pretty freaking hot. And the rest of the show was filled with these "holy shit" moments, as both men and women stripped off various costumes, people sang parody songs with filthy lyrics, a very submissive Shinji Ikari MC'ing the event under the torture of a dominating Asuka, and even a very large man came out crossdressing as a very large Princess Peach from the Super Mario games.
So while MangaNEXT might not be the largest con I have had the opportunity to cover this year, that didn't make it any less fun or exciting for me. Unique creative touches really give this convention its own personality in the sea of typical anime conventions. A small list of guests exposed me to many new aspects of my favorite black-and-white medium that I probably wouldn't have looked into on my own. And while there still needs parts to work out as far as transportation goes, I couldn't be any more proud to have a convention like this so close to home for me. I hope Central Jersey will continue to be home for MangaNEXT and other anime cons in the years to come.