Best. Marketing. EVER!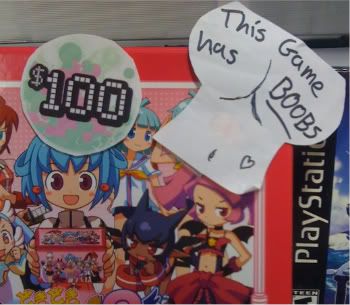 On site today:
Sunday is the Day of Rest
Narutaki:
Awake! Last day of next.
OutOfTimeProd:
packing up our hotel room and getting ready for cosplay chess in main events
Scott:
Dear Bed, I owe you at least 3 more hours of sleep this evening once this convention is over. Love, Scott
DJ Ranma S:
Need coffee stat!
Narutaki:
Checking out and heading to the con.
Kim:
Up and packing for the noon checkout. My friends are dead to the world at the moment. No con for me until later.
Kim:
And of course I have to make the ultimate decision: to cosplay or not to cosplay?
Greg:
It's Sunday. Day of con relaxation.
~~~~~~~~~~~~~~~~~~~~~~~~~~~~~
Dealers Room Excursion
animenext:
The Dealers Room and the Manga Library open now at 10:00am
Narutaki:
A little dealers room action then over to history of manga.
Greg:
Doh. Someone bought used vol. 1 of Initial D manga before me. Maybe staggering purchases across 3 days wasn't such a good idea.
Scott:
Shut up, just shut up. You had me at, "boobs".
Scott:
It's so moé that you can practically hear her crying, "oni-chaaaan!"
Scott:
There are so many figures for the obscure Chocotto Sister.
Scott:
Either it's because of the ecchi cover or because of the Neko Nyan Dance.
Narutaki:
Dealers arent makin deals! No 1/100 aegis for me this con.
Scott:
The only thing I bought in the dealers room. The power of Nekomimi Mode was too strong. (>_<)
Kim:
One last trip to the dealers room put me down $40.
~~~~~~~~~~~~~~~~~~~~~~~~~~~~~
Cosplay Chess
Kyle Hebert:
Cosplay chess: civilized smackdown featuring anime vs video game characters….. http://yfrog.com/0ujmqpj
DJ Ranma S:
@Kyle Hebert After Cosplay chess, come to dealer's room, got some great shirts! Next to kimono booth. :3
OutOfTimeProd:
Cosplay Chess was great! Got all the kills on tape! and then steampunk photo shoot at noon outside by the hotel
~~~~~~~~~~~~~~~~~~~~~~~~~~~~~
Otaku Perceptions and Misconceptions
Scott:
Very enthused fangirl talk about otaku.
Scott:
A group of fangirls chattering about Otaku Perceptions and Misconceptions.
Greg:
This panel discusses "otaku" and what it means. http://twitgoo.com/sk8g
Narutaki:
This otaku misconceptions panel is a little all over the place.
~~~~~~~~~~~~~~~~~~~~~~~~~~~~~
Ani-Bloggers
Scott:
Boy, AnimeNEXT kinda screwed up with the Anime Blogging panel.
Narutaki:
Waiting for the blog panel to start.
Scott:
Yeah, AnimeNEXT REALLY screwed up this Anime Bloggers panel. The only folks here are other bloggers.
DJ Ranma S:
@Scott I call shenanigans!
Greg:
Anime blogging: the secret panel no one knows about. o_o; http://twitgoo.com/sknn
Scott:
The bloggers.
Scott:
And the panel viewers… all of whom are already bloggers.
Scott:
"Protip: Don't blog on Twitter." Wait… what?!? (o_o)
~~~~~~~~~~~~~~~~~~~~~~~~~~~~~
Bye-bye, AnimeNEXT
OutOfTimeProd:
@animenext had a great time! can't wait for next year
Toshifumi Yoshida:
is done with his translation panel at . Probably stop by the office before closing ceremonies at 4:00pm.
Narutaki:
Leaving for the train. The end of a con is always a little sad.
Carl:
The girl i'm sitting next to on the shuttle bus is hot
Greg:
Well, AnimeNEXT was pretty fun, but they could organize it a little better. Still, I had a good time.
Scott:
So my final moments of AnimeNEXT was spent finally talking one-on-one with my co-liveblogger, @Kim.
Kim:
Had a great convo with @animealmanac. It was really nice talking to you!
Scott:
I'm back home now. I'll write about my overall impression of the con and I'll post up some YouTube videos in my "Highlights" post later this week.
Kim:
So I do believe over 70 ppl took my picture over the span of the weekend.
Kim:
But now I'm back in normal clothes waiting for brunch at ihop before hitting the road.
Kim:
I'll give my overall con impressions when I get home. Until then, farewell Anime Next!
Narutaki:
On the train back to nyc with @Hisui @Carl and @kransomwastaken
DJ Ranma S:
Gotta love Staten Island traffic.
Vince A:
Unwinding after arriving home after
Narutaki:
Home from the con and already scanning stuff for our con report for next week.
Narutaki:
Also getting the new episode of Cross Game and making guesses about more Otakon guests.
Narutaki:
So basically finished one con and am planning stuff for the next.