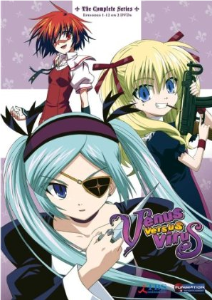 You know, for being called The Anime Almanac, I sure haven't been showcasing a lot of anime as of late. The last anime review I did was of the first Lucky Star DVD from over a year ago. The last time I even directly talked about any anime show in particular was my analysis of Haré + Guu. Since then, I've been either writing editorials or con reports, or I've been reviewing manga and video games.
That's why I am so glad that FUNimation stepped in and answered my call for anime review material. And boy, did they ever! They literally sent over more anime my way then I'll ever have time to go over! So for my first of many weekly anime reviews, I selected the 13-episode horror/action series, Venus Versus Virus, a rescue title from ADV.
Venus Versus Virus is the story about the Virus Vanguard, a group of protectors that hunt down monsters known as the Virus, former humans possessed by demons, and inject them with a special vaccine. Tough-girl Lucia heads up the operation when she discovers Sumire, a shy and timid girl with the power to also see the virus.
But this new girl is special. When Sumire is injected with a taste of her own vaccine, she becomes the ultimate anti-virus that no monster can defeat. But this power comes with a price. Sumire loses all control of herself and lashes out against Lucia until the vaccine wears out. Can Sumire control this incredible power to contain the virus, or will she eventually destroy Lucia and the rest of the Virus Vanguard?
Okay, so the plot is nothing very special. The mixture of j-horror with action is one of the most cliched premises in anime, manga, and video games. The idea of having to hunt down demonic viruses sounded very familiar to the visual novel I recently reviewed called Lux Pain. Even the way that Sumire gains her special power – by shooting herself in the head with a vaccine injecting handgun – conjures up images of the Persona franchise of video games.
But what Virus lacks in originality, it makes up for in the visual department. Intended for a male audience, this series features a whole cast of wonderfully designed pretty girls wearing beautiful gothic-lolita style costumes. The designs are akin to Ken Akamatsu's style of pretty girls, and would appear to have been from a harem romance title rather than a horror-action series.
One of the unsettling aspects about these pretty girls and their pretty designs is that they also apply it to most of the young male characters. One example of this would be Riku, the young lad with a huge crush on Sumire. The problem I had with Riku is that he looked like a girl. Not one of those androgynous pretty boys you would find in a shojo series, but one of those doe-eyed moé girls that make up the rest of the cast.
The series wins on most of the artistic choices it makes. A dark horror story has never looked this bright and colorful before. And the pretty character and costume designs are showcased in beautiful still-framed images during the show's eye-catches, ending theme song, and "next episode" preview.
However, the series also misfires on some of these artistic choices, most notably the way it handles flashbacks. These scenes take place within an eyeball shaped framing, as if to imply that you, the viewer, are seeing the scene through the eyes of someone else. However, this frame actually takes up most of the screen leaving little room for the action, and the frame is usually brightly colored with some strange pattern. It looks ugly, really ugly, and is a pretty big distraction from the scene taking place.
It is a shame, because these flashback moments reveal another positive aspect of this monster-of-the-week serial, and that would be actual character depth. In the first episode, you are thrown into the middle of the action with both leads fighting the monsters. But as the series progresses, the background story is slowly revealed and the current situation becomes all too clear.
Aside from the main cast, all of the supporting characters also have their own unique story and charm. That timid Riku character has a running gag of trying to confess his love to Sumire with his out-going older sister cheering him on. Lucia's somewhat adopted father, Soichiro, has an incredible back story on how he came to know the girl and run the Vanguard with her. And the tsundere little girl Laura ends up having her own interesting characteristics as well.
While the series itself is not outwardly sexual, there are a lot of strong sexual undertones that periodically appear through out the series. And each and every time it happens, it is creepy as hell.
The most obvious of these undertones is the lesbian tension between the two leads. Despite the fact that Sumire is seen with a older good looking boy through out the series, there is an undoubted attraction between her and Lucia. In fact, almost every schoolgirl in the series appears to have a crush on one another. Not to mention that the second episode revolves around a pair of twin siblings – a boy and a girl – who seem to have a… ahem… very deep love for each other.
Like I said, these undertones end up being creepy as hell. (o_o)
The Good: Pretty looking characters with gorgeous gothic-lolita costume designs.
The Bad: Some of the artistic choices fall flat. Underlining sexual tensions unsettling. Young male characters look just like the girls.
Final Verdict: Venus Versus Virus manages to take a cliche supernatural mystery plot and polishes it with enough eye candy and character depth to make it an enjoyable 13-episode anime series.