In the top floor area of the historical Webster Hall venue in downtown New York City, a sold out house of anime and music fans wait patiently for a show to begin. It is the weekend of the New York Anime Festival, and on this Sunday evening, the fans are showing fatigue from days worth of events. Upon entry to the venue, they were given a pink glow stick and a red handkerchief for reasons yet unknown.
The house lights dim, the stage lights go on, and an announcer blasts, "Are you ready?" to the crowd's enthusiastic applause.
Then suddenly sixteen girls, with ages ranged from 14 to 21, step onto the stage and begin performing a synchronized song and dance. It is quite a sight to see so many pretty girls occupy one single stage like this. Their opening song, an upbeat number called "Aitaikatta", greets the crowd with Japanese lyrics that translate to,"We've missed you all, we've missed you all, we've missed you all, yes!"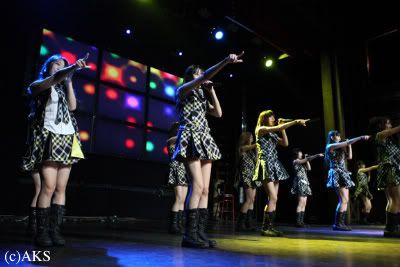 Sure, the pitch perfect vocals going through the speakers were all prerecorded, but that did not seem to matter to the predominately male audience. Their bouncy choreography got the crowd hyped up and waving their glow sticks to the sugar coated beat of their music. And for extra fan service, their catholic school girl outfits were specially weighted so that their skimpy skirts would flare up with every turn, innocently exposing their black undergarments.
Cute, sexy, cheerful, and pure, the girls of AKB48 are to these nerdish men what the Jonas Brothers are to American teenage girls. But the j-idol phenomena is rarely seen outside of Japan, so for most of these native New York otaku, this was their first time seeing a show like this in person.
And what better idol show to see for your first time than the most popular group in Japan these days?
AKB48 was born out of the "Otaku Boom" fad of 2005 when the book Densha Otoko turned the Japanese media attention towards Tokyo's electronics and anime district, Akihabara. Producer Yasushi Akimoto sent out an open casting call to start a new idol group for this geeky mecca of Japan.
"I always wanted to be an idol," 21-year-old member Haruna Kojima recalls. "I just happened to see a poster that was asking for young girls to audition for a new idol group. So I sent them a picture of me from my cell phone, and I got an audition because of that."
Tens of thousands of girls have since auditioned to be part of the group, but as it stands right now, only 65 girls make up the entire troupe. They take turns as 16-member "teams" in performing at their theater in Tokyo. Over the years, the group has managed to release chart-topping pop music singles and star in their very own weekly TV and radio shows.
They are, without a doubt, a Japanese media sensation. The fact that they were going to the New York Anime Festival drew a lot of foreign press to the Javits Center that weekend. And they played it up perfectly to show their native country how big their American debut was going to be. Even during my private interview with the head members of the group, Japanese photographers constantly shot photos of them and a Japanese TV crew filmed our little Q&A session.
But their fame and attention in Japan has not necessarily reached America yet, and since they've only done theme songs to two obscure anime titles, even the New York Anime Festival attendees were mostly unfamiliar with them. But that didn't make the group feel unwelcome or out-of-place in this foreign land.
"New York is like having all the different parts of Tokyo, like Shibuya and Harujuku, into one concentrated area," says 18-year-old member Atsuko Maeda. "It all just feels so close together, like we're in a miniature version of Tokyo."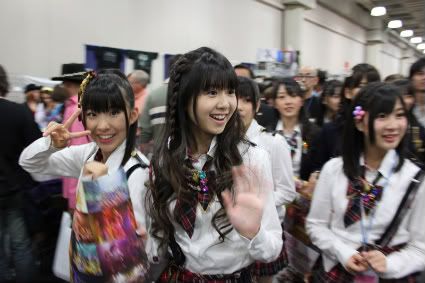 In fact, one key member seemed to be completely psyched about attending the Anime Festival itself. Minami Takahashi, age 18 and often considered the leader of AKB48, proudly declared herself a full-on anime fan and otaku.
"I really love anime!" she enthusiastically tells me. "I'm a huge fan of Shonen Jump titles like One Piece, Bleach, and Naruto. So after I found out that we would be performing at an anime convention in America, I asked, 'Do I really have to be a guest? Can I just buy a badge and attend the convention myself as a fan?' I want to see everything that's going on here!"
But there were still worries about performing for the American audience for the first time. "We're doing most of our songs in Japanese," says 20-year-old Yuko Oshima. "How will the American fans understand what we're saying?"
There was most certainly a difference between the American fans and the Japanese fans. But it probably had nothing to do with the language barrier, it was because their Japanese fans were absolutely crazy about them!
Several dozen AKB48 fans from Japan made the international trip with the group in order to see their favorite pop stars make their American debut. They were clearly the loudest of all the attendees. This was the most obvious during their two events that Saturday at the Javits Center, an hour-long Q&A panel and a "Preview Concert" on an open stage located towards the back of the venue.
While tickets to the Webster Hall show were pretty hard to obtain, the Q&A and preview concert were open to anyone attending the festival. So the Japanese fans waited for hours to be in the front row for both events. And as the girls performed the preview show, the Japanese fans drowned out everyone else with all the chants and cheers they would do for their regular shows in Akihabara.
And really, this kind of performance and fan pandering is what the group was made for. Even with the chart topping hits and celebrity-level media attention, AKB48 is still just a theater troupe at its core. They have set up a residency theater in Tokyo, and they perform two shows everyday – a matinee and an evening performance. Their goal is to always put on a huge stage show to please their biggest fans.
So there is far more emphasis on the visual look in their live shows that you are not going to get from just listening to their music. Every song in their 100-minute set at Webster Hall was fully choreographed so that every girl was dancing intensely through out the entire show. They were barely able to speak to the audience in between songs because the choreography left them completely out of breath.
And the costumes they wore also became a huge part of their stage show. After a few songs with all 16 members, the group broke up into smaller sets for a series of "unit" songs with only a handful of girls on stage. For each unit song, a new set of girls came out with completely new outfits. The costumes ranged from 50's bobby socks to 60's swinger chick to cute fluffy animals to sexy leather-clad rock babes.
But my favorite costume in the entire show was what they wore for their encore performances. Every one of the sixteen girls came out in a simple gray flannel skirt and the white iconic "I Love NY" t-shirts. It was time for the fans to take out those red handkerchiefs and wave them around with the girls on the stage.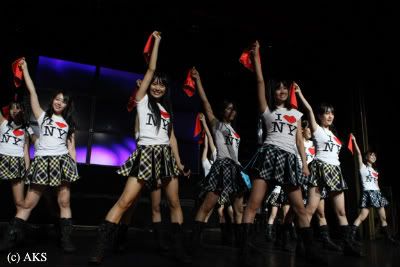 The AKB48 experience at New York Anime Festival was truly unique event that I don't think I've seen before at any anime convention I've attended. The interview, the Japanese media, the insane Japanese fans, the choreography, the glow sticks, the costumes, those white t-shirts… they all made a lasting impression on me.
The Akihabara show has been so successful that they established an SKE48 troupe to set up residency in a theater in Nagoya. So with the legendary lights of Broadway only a few blocks away from the Javits Center, how about setting up a j-idol team here in America?
"NYC48," one of their managers jokingly suggests.
Yeah, NYC48. I would be totally down with that.
–
Webster Hall photos courtesy of AKB48 management, NYAF photo courtesy of Christian Liendo and Fanboy.com.