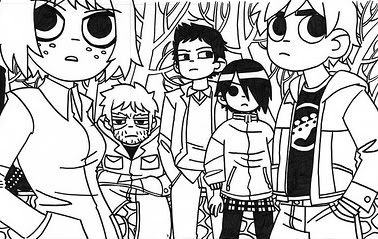 Scott Pilgrim artist Bryan Lee O'Malley is auctioning off an original Pilgrim art piece on eBay. O'Malley will be donating all proceeds of the auction to Giant Robot, a long running independent Asian American Pop Culture magazine that has facing serious financial struggles lately. The signed sketch is drawn in ink and was used in the fifth volume of the series and on promotional items.
An awesome art piece from an awesome comic going to a cause I think we otaku can fully support. While Giant Robot may not necessarily be all about anime and manga, it most certainly celebrates our sub-culture. Bidding for the 24-hour auction ends at 9:56 EST (6:56 PST) Thursday morning, so act quickly. You can also donate directly to Giant Robot by visiting this site.
* * *
Yen Press has acquired a bunch of new manga titles, including the highly anticipated four panel comedy series The Melancholy of Suzumiya Haruhi-chan and K-On! These series will debut this October and November respectively.
I hate four panel manga. Hate, hate, HATE four panel manga! The comedy and structure never translates well into English. Never!
So I can foresee two things coming out of these two acquisitions:
1) They are not going to be funny.
2) They are going to absolutely sell like hot cakes.
Haruhi Suzumiya and K-On are the two hottest anime properties right now, and while American otaku may not necessarily buy the DVDs anymore, they will still go out and buy the manga. This is why the regular Haruhi manga series sells so well despite not being nearly as good as the anime. This is why Lucky Star debuted on the NYT Bestsellers List even though Bandai just barely managed to get it on store shelves, let alone market it.
So add that with the launch of the Twilight manga and Yen Press is about to have a fantastic year ahead of them. You may not always agree with their tastes sometimes, but man, they sure know how to run a manga business.
* * *
Dragon Ball Z Kai wasn't the only news to come out of the Navarre conference call yesterday.  FUNimation's parent company reports that its holiday sales this year were less than they were in 2008. Navarre attributed the decline to a weaker anime release schedule and a weaker DVD market in general.
Of course, I'm sure the fact that they released Dragonaut in that quarter also contributed to the decline to sales, and to humanity.
Let me remind you that FUNimation had a massive release blitz beginning in summer of 2008 when they had acquired that massive catalog from both ADV and Geneon. That blitz ended just before the holiday season, so it makes sense that we're beginning to see the sales decline starting at this point. And considering that FUNi's 2010 offerings are looking very sparse so far, expect to see this be a common theme through out the rest of the year.
* * *
Publishers Weekly reports that Del Rey's Associate Publisher Dallas Middaugh is teaching a course at NYU on Graphic Novels. Best. Class. EVER!
* * *
Konami issued an official press release today informing the world how they made Upper Deck their bitch regarding a settlement over counterfeiting Yu-Gi-Oh! trading cards last December. Outraged over an official statement released by Upper Deck last week,  Konami called on the world to tell the major trading card manufacture exactly where they should shove it.
When asked who had two thumbs, one of the largest gaming franchises in world history, and a ridiculous amount of money earned in the undisclosed settlement, Konami chairman Kazumi Kitaue responded by pointing her two thumbs towards her chest and declaring, "this guy!"
Upper Deck is expecting to make their rebuttal to Konami behind the swing sets after school today.
* * *
AnimeEigo will lose their license on the Oh! My Goddess OVA series by the end of the month, so they are running a sale to clear out all of their remaining inventory. Get 'em while you still can!
Fans can expect to hear Sentai Filmworks' acquisition of the series on March 1st.
You think I'm joking, but just see what happens on March 1st!
* * *
And finally, to make up for all the unnecessary snark in today's post, enjoy this totally kick ass music video! (^_^)