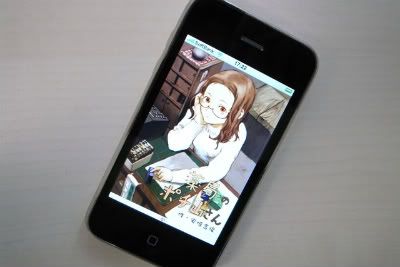 Yamila Abraham of Yaoi Press elaborated on a quote she made to About.com this week regarding her yaoi manga being recently rejected by Apple. It turns out that she had enlisted a third party app developer to reformat a 13+ yaoi comic of hers to fit better into the format of the iPhone. They even edited some questionable content in order to ensure it would pass through Apple's screening process. Even with the changes, Apple rejected the app and cited no reasons for doing so.
The App store has a "mature" rating in place to designate programs rated for users 17 and above, but has a strict "no pornography" policy. I imagine this was the reason for the rejection. While the definition of what could be considered pornographic is strictly up for debate, it is completely understandable why Apple would have to scrutinize any boy's love content that tries to make its way onto the platform. Yaoi certainly raises some red flags for most normal people.
I don't condone Apple's choice of censorship as to what it allows on the iPhone. If I had my druthers, I would allow any mature application onto the platform, especially pornography. But the App Store is what the App Store is.
We're not talking about some form of media protected by freedom of speech. We're talking about a gated community that is closely monitor by a major American corporation. And unfortunately, major American corporations are not ready to take on hot guy-on-guy action yet. In fact, most of America isn't ready for that. So Apple's call to deny the yaoi app is simply for the sake of protecting its own branding.
And frankly, you can't blame them for that. Strict policies like that make the iPhone the best consumer device on the market today.
On a separate note, Abraham did bring up a good point in her post that I never thought of before. Amazon actually has an iPhone app that allows you to read Kindle books on that platform. As it currently stands, this app is useless for all the manga available in the Kindle store because the picture is so damn tiny on that small screen. But when that app gets ported to work on the larger iPad, it's going to be the perfect size for manga viewing.
I imagine that Apple might not like that, as this will be in direct competition with their new e-book initiative, iBooks. I think we will be seeing that Kindle app go away sometime in the near future.
* * *
Liz Ohanesian of LA Weekly broke the news that FMA is coming back to Adult Swim. FUNimation will be debuting the Brotherhood series a week from this Saturday night. It will be the first time we see the show fully dubbed as a majority of the original cast will be reprising their roles this time around.
While many people claim to have seen this coming from a mile away, I'll be honest and say that I'm shocked to see any anime show debut on Cartoon Network these days. The network was critical in the rise of anime's popularity in the early part of the last decade, but they seemed to have completely abandoned the genre (and cartoons in general) in recent years.
I think it's also quite noteworthy that the first episode of FMA Brotherhood premiered on Japanese TV last April, made itself legally available online a few days later, and then premieres with a full English dub on national American TV a mere 10 months later. Now granted, Bandai was able to get a dubbed episode of Kurokami on American TV the day of its Japanese debut, but this time we're seeing it with a major anime franchise on a major national network.
* * *
The website for the Japanese movie My Darling is a Foreigner began streaming a 90-second trailer for the film. The movie is based on the autobiographical manga by Saori Oguri about her marriage to American journalist, Tony Laszlo.
As a white guy who's been studying Japanese for years, I am absolutely fascinated with this film and its depiction of white Americans, or "gaijin" as we're more colloquially known, living in Japan. They actually have a regular gaijin, freelance translator and narrator Jonathan Sherr, co-staring in a Japanese film! You very rarely see gaijin star in Japanese cinema, let alone be given a leading role.
I really want to check out how the guy does in it. Hopefully we'll get a festival screening of it in NYC later this year.
* * *
Did you read my review of Stolen Hearts earlier today? I really enjoyed reading this comic and I highly recommend you all check it out. Remember, Right Stuff is having that CMX sale until midnight tonight… [wink] [wink]
I also started to watch Soul Eater last night, which I'm also finding to be pretty freaking awesome. You can expect to see my review of that anime sometime next week before I head out to Katsucon.
* * *
And finally, Yo! Eva raps!
And if you look closely, you'll see the business card of Japanator's Brad Rice proudly on display, which leads me to believe that he moonlights as a nerdcore rapper during his free time.