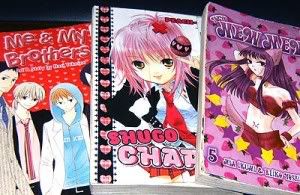 Just had to start off with this photo caption pointed out by MangaBlog this morning. While reporting on the Handley sentencing, The Iowa Independent pictured several shojo comics like Tokyo Mew Mew with the following caption:
Seven manga books, intercepted and seized by federal authorities, led to a 40-year-old Iowa man being indicted on child pornography charges. Similar although non-explicit graphic novels, like the three pictured above, are available at most public libraries.
Now, in a way, they're right. Tokyo Mew Mew is kind of similar to The Animal Sex Anthology because they're both Japanese comics. That's just like how Star Wars is similar to Debbie Does Dallas because they're both classic American films from the late 1970's.
But I think that there might be some misleading conclusions formed when you compare children's entertainment to hardcore pornography, even if you state that one is not quite as sexually explicit as the other. You can kind of see why Handley didn't really stand a chance facing a jury of his peers when that's how the Iowan media handles the story.
* * *
ANN's newest intern Crystalyn Hodgkins posted her interview with FUNimation's newest voice actor Maxey Whitehead. It was actually the first interview for both the reporter and the voice actress, but it looks like it turned out quite well.
I ended up sitting next to Maxey at a Katsucon panel last Friday and we had ourselves a very pleasant discussion. Since I've been able to review all the shows she's been featured on for FUNimation (Romeo x Juliet, El Cazador, and Soul Eater), we were able to talk about pretty much everything she's worked on so far.
Moments like that make me glad I'm one of the only anime bloggers that still gives a damn about English voice acting. I could have never causally run into some Japanese seiyuu and then talk seriously to them about the art that they create and that I evaluate. The voice actors are, for the most part, the only artists in the medium that we have easily available here in America.
Maxey is new and inexperienced, but I've been enjoying her work so far. I think the FMA gig is going to really boost her reputation within the fan community, so keep an eye on this one, peeps.
* * *
My entire interview with Out-Of-Time Productions is now up. Be sure to check out Part 1, Part 2, Part 3, and Part 4.
* * *
FUNimation posted their video report of Katsucon. They shot plenty of video of their adorable Strike Witches cosplayers.
Though in hindsight, perhaps flying the "Mission Accomplished" banner might have been a little premature at that time. We're still out there fighting the War on Pants, and it doesn't appear to be ending any time soon. 🙁
* * *
And finally, Right Stuf is having their sale on Vertical books this week. Of course, I have to recommend Chi's Sweet Home, but be sure to also check out the book that motivated me to lose 50 lb (and still counting), Sayonara Mr. Fatty.