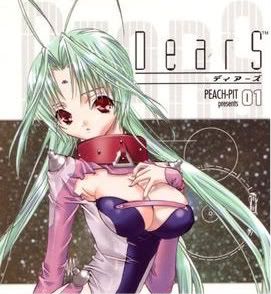 DearS is a comic in which an alien race of big breasted women (and some pretty boys as well) crash into Earth. Along with highly exposing space costumes, the women wear dog collars around there neck. The collar is symbolic of the fact that their only purpose in their alien life is to find a "master" of the opposite sex and faithful serve under them as a "slave."
Strawberry 100% is a grade school soap opera where a girl accidentally flashes her strawberry patterned panties at teenage boy when she trips over him. She runs away completely embarrassed,  so the boy never gets her name or a good look at her face. But he becomes completely enthralled with the bizarre episode, so he goes on a quest to find the girl with the strawberry panties.
Chu-Bra is the story of a 7th grade girl who is obsessed with women's lingerie and forms an "Underwear Appreciation Club" with a group of her classmates. Because of this premise, the comic is constantly showcasing its female characters in their underwear, and often in very sexual position as well.
And finally, Kodomo no Jikan is the story of an elementary grade school girl who shamelessly flaunts her sexuality to her male teacher in order to tease him and get him in trouble. Because of it's portrayal of a little girl in such a way, it has arguably become the most controversial manga title in the past decade, and was even banned in America by Seven Seas publishing.
What do all of these comics have in common?
They were all done by female manga artists.
That's right, the most offensive, perverted, fanservice-laden, otaku-pandering, female-degrading manga of the past few years have been penned by female manga artists themselves.
How about that, ladies?
Personally, I think this makes total sense. I am always looking for a decent sexy comic out there that won't insult my intelligence, but unfortunately, most of them end up being nothing but crappy excuses to show naked girls. But for some reason, the series with this particular feminine touch always manage to stand out as a worthwhile read.
When you have a woman writing the story, you tend to get a much deeper and more dramatic plot holding together all of these heaping doses of fan service, which makes the series totally more enjoyable then just having the eye candy alone. I think this is the reason why these particular series have become so popular among their male readers, and have all gone on to be adapted into anime series as well.
On top of that, I find that these series also feature some of the most attractive character designs and outfits of any other ecchi series. The artist puts a lot of detail in highlighting more that just the T&A when she's trying to make her characters sexy, and it's in these little nuances that make her art stand out above her male counterparts.
I guess that no one understands the appeal of the female body quite like a female does.
* * *
I've got to give Crunchyroll major kudos on their iPhone app (iTunes link). When they debuted the portable video streaming program last month, it was good, but there were still some critical bugs that made it fail to compared to the web gateway. But then they pushed out a version 1.02 update last night, and oh man, this is now one sweet app!
I think the biggest improvement in this new update is access to premium video if you're a Crunchyroll subscriber. This usually includes brand new anime episodes with in their first week after Japanese broadcast (they go free after one week), though the entire Fairy Tale series is also under this pay wall. So when 1:00 EST rolls around on Sunday and you're not on your desktop, whip out that iPhone and enjoy that brand new episode of Hanamaru Kindergarten.
If you're not a paid subscriber, you still greatly benefit from the update as they have completely cleaned up the navigation system in browsing the massive collection of streaming videos. In a stroke of brilliance, they even categorized each series based on their broadcast season or genre.
So where can the CR app go from here for their next update?
Fix the subtitles issue! – Having to always manually turn on the subs when starting an episode is annoying, and is potentially be a deal breaker for newcomers to the app. If QuickTime won't allow you to default with the subtitles turned on, then hard code them into the video itself.
Allow for streaming over 3G – Yeah, the picture would probably be crappy over the cell phone network, but the iPhone can handle that kind of streaming.
Add a "favorites" option for series – Sure, the revamped navigation is much, much better than the previous one, but if I'm just following a couple of simulcasts, let me checked those off and give that it's own menu.
Optimize for the iPad – Dude, as sweet as this app is for the iPhone, it's going to be even better on the huge screen of the iPad. Get those 720p feeds ready for the launch of the new platform and retool the UI so that we won't have to run it in 2x mode.
But still, I think having an app like this makes the subscription well worth it.
* * *
And finally, if you recall from my Katsucon report a few weeks ago, I wrote that we otaku "were totally out of place, and I'm sure the poor bastards sharing the con center with us that weekend felt the same way as well."
Well, here's the story of one of those "poor bastards" from the conservative Christian Family Life Conference that was taking place alongside Katsucon that weekend. It's a really fascinating read.
I've always wanted to write a feature on these type of people who just so happen to stumble across an anime convention like this. For the most part, we manage to completely take over the entire venue and the surrounding neighborhood whenever a convention comes to town. And we often have to share this space with other people, so you have to wonder what they're thinking when they're suddenly inside of a world full of rambunctious teenagers in huge elaborate cosplay.