Friday, October 9th, 2009
In the top floor area of the historical Webster Hall venue in downtown New York City, a sold out house of anime and music fans wait patiently for a show to begin. It is the weekend of the New York Anime Festival, and on this Sunday evening, the fans are showing fatigue from days worth of events. Upon entry to the venue, they were given a pink glow stick and a red handkerchief for reasons yet unknown.
The house lights dim, the stage lights go on, and an announcer blasts, "Are you ready?" to the crowd's enthusiastic applause.
Then suddenly sixteen girls, with ages ranged from 14 to 21, step onto the stage and begin performing a synchronized song and dance. It is quite a sight to see so many pretty girls occupy one single stage like this. Their opening song, an upbeat number called "Aitaikatta", greets the crowd with Japanese lyrics that translate to,"We've missed you all, we've missed you all, we've missed you all, yes!"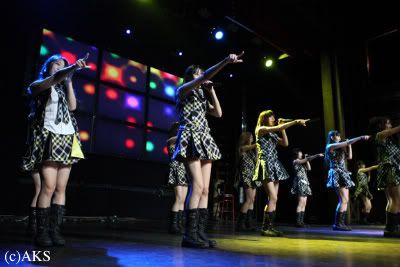 Sure, the pitch perfect vocals going through the speakers were all prerecorded, but that did not seem to matter to the predominately male audience. Their bouncy choreography got the crowd hyped up and waving their glow sticks to the sugar coated beat of their music. And for extra fan service, their catholic school girl outfits were specially weighted so that their skimpy skirts would flare up with every turn, innocently exposing their black undergarments.
Cute, sexy, cheerful, and pure, the girls of AKB48 are to these nerdish men what the Jonas Brothers are to American teenage girls. But the j-idol phenomena is rarely seen outside of Japan, so for most of these native New York otaku, this was their first time seeing a show like this in person.
And what better idol show to see for your first time than the most popular group in Japan these days?