Monday, November 23rd, 2009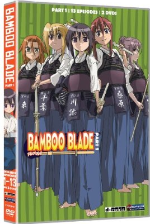 Toraji Ishida is a bad high school kendo instructor with practically no money in his bank account. One day he is shooting the breeze with an old pal / former teammate of his, and they issue a challenge to each other. Since they both went on to become high school kendo instructors, why don't they relive their days of competitive glory with their two teams going at it? If Toraji's team wins, he gets a lifetime supply of sushi, which would be the perfect solution to his little financial crisis.
There's just one slight problem with the bet – Toraji's team is so pathetic that there is only one active member still left on it!
So he sets off to recruit a team of new freshmen to revitalize the club and win that precious all-you-can-eat sushi prize. Among his finds is Tamaki Kawazoe, a soft-spoken shy girl who is a phenomenal kendo player. Now with this star fighter on his team, does Toraji finally have a competent kendo lineup?
On the outside, Bamboo Blade looks like your typical moé fluff anime series, complete with a harem of highly characterize pretty girls, a weak female lead, and silly comedic antics. But if you actually take the time to watch it, you'd see that this is actually a wonderfully written series with some fine voice acting.