Wednesday, August 12th, 2009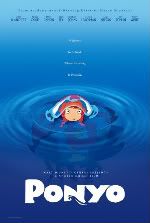 I remember back when I first laid eyes on a Miyazaki film. It was in early 2003 just after Spirited Away won the Academy Award for Best Animated Picture. Disney had decided to re-release the movie into theaters for a couple of weeks before they released it onto DVD. So a couple of my high school buddies and I made the trip to some remote art house theater somewhere in Jersey to see what all the hubbub was about.
What I saw was one of the most incredible films ever created. Miyazaki had managed to create such a wonderful world full of Japanese traditions, spectacular imagery, and childish wonderment. And in the film's climax when the two leads are flying together in the air, I was bawling my eyes out over the beauty of it all.
I was truly blown away from the film and have been desperately trying to find that same awesomeness with Miyazaki's other works. I really enjoyed films like My Neighbor Totoro, Porco Rosso, and Princess Mononoke on DVD, but they still didn't quite speak to me the way that Spirited Away did. And when I went to the US premiere of Howl's Moving Castle back in 2005, I found that the film's extremely cheesy ending ruined whatever momentum it had going for it.
Well, I'm now beginning to think that Spirited Away might have been Miyazaki's last great film. His newest one set for release in America this Friday, Ponyo, turns out to be his biggest disappointment yet.
(more…)