Thursday, January 21st, 2010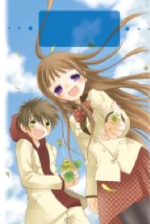 In order to be a "Projectionist," you must be able to create worlds and objects using only your imagination and a magical lantern. It is a unique talent that very few possess, but those that can do it well can become famous and make a fortune out of "projecting" in front of a paying audience.
But you gotta learn how to do it first, so students hone their craft in the Projectionist Department at their regular high schools. The World I Create is a series of short stories about these type of magical high school students. They find love and friendship with each other while still trying their best to make the grade and pass their classes.
The World I Create is a one-volume shonen title out of the CMX / Flex Comic partnership, and it is the first work of artist Ayami Kazayama to be released here in America. And while one might be expecting a whimsical tale about the magic of these projections, all we get is a sappy and overly-generic romantic snoozer instead.