Wednesday, November 18th, 2009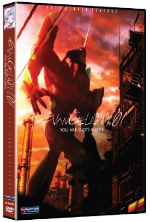 An event known as "Second Impact" changed the world when a massive explosion in the arctic melted the polar ice caps and flooded over Japan. Fifteen years later, Tokyo-3 has rebuilt itself as a retractable underground city, and a whole new generation of kids has been born and raised in the post-Second Impact era.
Then one random day, a giant monster appears and moves his way towards the city. These monsters, known as "Angels", have one target in mind. Buried deep underground of Tokyo-3 is Lilith, the Angel at the heart of Second Impact. If Lilith were to make contact with another Angel, Third Impact will occur and all of humanity will be destroyed forever.
The Japanese military are useless against stopping the approaching Angel, so they call on the government agency NERV to take care of the monster. NERV commander Gendo Ikari enlists his estranged 14-year-old son, Shinji, to pilot the giant bio-mechanical robot known as Evangelion. And so suddenly thrust into battle, we begin the epic story of a timid and reluctant teenager who suddenly becomes mankind's final hope against the Angels and Third Impact.
… but really, do I need to explain the plot to you? Are you the only otaku in the world who has not seen Eva before?
The 1995 anime TV series was a landmark achievement that turned the giant robot genre into a psychological trip that dove deep into the human condition. It blew my mind when I first saw it eight years ago, and it still goes down as my favorite anime series of all time.
However, Eva had the misfortune of being released just before the anime industry shifted from hand drawn animation to digital. This change in technology drastically improved the visual look of anime and made the lines crisper, colors more vibrant, and eliminated the need to recycle old sequences again and again through out a series. Even though it is less than 15 years old, the hand drawn Eva series appears very dated among all the digitally animated shows from the past decade.
So director Hideki Anno set out to create a brand new remake of his anime masterpiece over the course of four theatrical films. Evangelion 1.01: You Are (Not) Alone is the first of these films, and it retells the first six episodes of the TV show. While the film does not diverge too far from the original just yet at this stage of the series, it still offers enough visual enhancements to make this fanboy nearly blow his load while watching it.