Sold out, Jason Thompson OEL, Bandai goes digital, Yotsuba&! vol. 6, FUNimation's popularity, and Ani-bloggers go out for a huge dinner.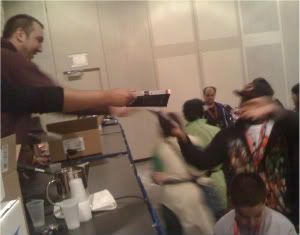 What do you get when you stick tens of thousands of geeks into a single building?
Tens of thousands of iPhones killing my  AT&T internet connection, that's what!
Good thing I had a whole crew of bloggers ready to twitter away every piece of news to come out of the five industry panels today. A lot of big news happened today, and I'm sure I'll go into more detail about it in the weeks ahead.
On site today: